Action Force GI Joe Cobra? CRIMSON GUARD v1 x4 LOT1? Figure Hasbro Vintage 100%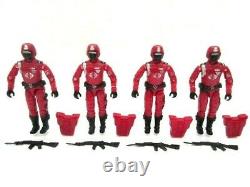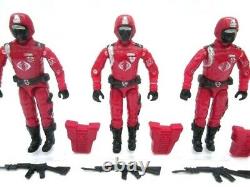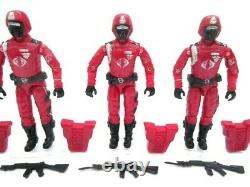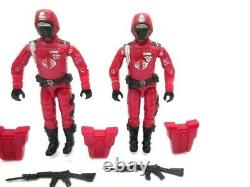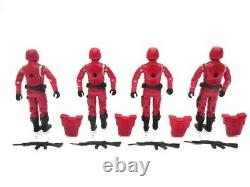 Vintage GI JOE / Action Force Cobra Vehicles 1980's / 90's - CRIMSON GUARD v1 LOT x4 ARMY BUILDER - Cobra ELITE TROOPER. 1985 3.75'' Action Figures - Overall Excellent Condition - All 4 100% Complete. Mostly TIGHT Joints, all undamaged Crotches, no rust, with all thumbs and all accessories / weapons pictured! In overall all in Excellent condition, only one has slightly loose knees and one has slightly loose arms but all 100% complete!
I have tried to show the item in as much detail as possible, but if you have any questions then please do not hesitate to contact me. This item is rare & hard to find in such condition considering it's age & Displays very well. Please contact me if you have any other questions. This is part of a HUGE private collection. Many UK and European Exclusives. Which have been stored with care and out of sunlight for years, so no fading! The only negative may be a bit of dust, but they have had a dust down recently before I took the photos :. Other Figures I have include. MOC Battle 2000 Dee-Jay UKG Graded 85%, MOC GI JOE Raptor, MOC GI JOE Iceberg, MOC GI JOE Crystal Ball, MOC GI JOE Falcon, MOC GI JOE Low-Light, MOC GI JOE Mainframe, MOC GI JOE Leatherneck, MOC GI JOE Road Pig, MOC GI JOE Roadblock, MOC GI JOE Footloose, MOC GI JOE Storm Shadow v2, MOC ACTION FORCE Airtight, Toxo-Viper MOC OPENED, Loose Cobra Commander V1 - Straight Arm, Cobra Commander V1, Destro V1, Storm Shadow V1, Snow Job, Firefly, Major Bludd, Baroness, Hawk, Stalker, Clutch, Grunt, Flash, Blowtorch, Breaker, Spirit, Roadblock, Breaker, Tripwire, Duke, Torpedo, Blades, Recondo, Ripcord, Sci-Fi, Zartan, Cobra Commander V2, Short Fuze, Gung Ho, Doc, Gaucho, Snake Eyes / Stalker, Airborne, Rock n Roll, Quarrel, Zap, Steel Brigade with STEEL BRIGADE SEW ON PATCH, Blizzard tiger Force, Outback Tiger Force, Tunnel Rat, Moondancer, Psyche Out Tiger Force, Cover Girl, Toll Booth, Mauler, Back Stop, Ace, Blizzard, Slip Stream, Steam Roller, Sneak Peek, Hardball, Cross Country, Scoop, Thunder, Ice Berg, Deep Six V2, Shipwreck, Sgt. Slaughter, Falcon, Crankcase, Deep Six, Alpine, Gung Ho Officer, Jinx, Budo, Repeater, Tunnel Rat, Outback, Lady Jaye, Flint, Mainframe, Psyche Out, Snake Eyes & Timber V1, Barbecue, Lifeline, Roadblock, Quick Kick, Wet Suit, Junkyard & Mutt, Airtight, Frostbite, Law & Order, Dusty, Dial Tone, Footloose, Leatherneck, Beach ahead, Gyro-Viper, Range-Viper, Undertow, Cobra Night Stalker, Rock Viper, Python Patrol Crimson Guard, Gnawhyde, Annihilator, Python Patrol Copperhead, Hydro-Viper, Astro-Viper, Secto-Viper, Wild Boar, Lazer-Viper, Frag-Viper, Darklon, SAW Viper, TRACK Viper, HISS Driver, Destro V2, Alley Viper, Heat-Viper, Raptor, Road Pig, Lamprey, Voltar, Iron Grenadier, Metal Head, Techno-Viper, Croc Master, Tele-Viper, Motor Viper, Strato-Viper, WORMS, Cobra Commander V3, Big Boa, EELS, Zandar, Crimson Guard, Zarina, Red Laser - Broken Crotch, HISS Driver, BATS, Serpentor, Crystal Ball, Ferret, Storm Shadow V2, Dr Mindbender, Wild Weasel, Snow Serpent, Torch, Buzzer, Ripper, Copperhead, Thrasher, Tomax, Viper, Cobra Trooper, Cobra Enemy Trooper, Cobra Officer, Xamot, Monkey wrench, Scrap Iron, Stinger Driver, Golobulus, Footloose Sgt Slaughters Marauders, Rock'n'Roll, Ambush, Sub Zero, Treadmark / Skidmark, Wild Card, Hot Seat, Rampart, Stalker, Pathfinder, Recoil, Windchill, Ghost Rider, Strato Viper, Spirit Sgt Slaughters Marauders, Frostbite Tiger Force, Falcon / Flint Tiger Force, Recondo Tiger Force, Dusty Tiger Force, Duke Tiger Force, SkyStriker Tiger Rat Pilot Tiger Force, Roadblock Tiger Force, Bazooka Tiger Force.
Spirit Euro Exclusive, Junkyard & Mutt Euro Exclusive, Low-Light Sgt Slaughters Marauders, Salvo, Avalanche, Stretcher, Cpt Grid Iron, Top Side, Point Blank, Armadillo, Taurus, Night Viper, Dee-Jay, Bull Horn, Free Fall, LightFoot, Maverick, Windmill, Sgt Slaughter Warthog Driver, Charbroil, Downtown, Red Dogg, Mercer, Back Blast, Spearhead & Max, Blocker, Muskrat, ShockWave, Dodger. Most are MINT, 100% complete and have either Full Backing Cards or File Cards - Contact me for more info.
Please check my other listings, as I have some rare items including the following. E, Dragonfly XH-1, Skystorm X-Wing Chopper, Mauler M. Tank, Thunderclap, Rolling Thunder, Phantom XF-19, Conquest X-30 Jet Fighter, Tactical Battle Platform, H. C, Silver Mirage, Snow Cat, A. Polar Battle Bear, Devil Fish Boat, Armadillo & CrossFire Delta 49 RAC Radio Control Buggy! Mamba Helicopter, Rattler Plane, STUN, Air Skiff, Air Chariot, F. Helicopter, Night Stalker Jeep, Sea Ray, MORAY, Thunder Machine, Dreadnok Trike, Despoiler, Stellar Stiletto, Water Moccasin. Also have loads of old early Action Force (Z Force / Q Force / Space Force / SAS & Vintage Cobra Red Shadows), like the very rare Command Centre & Red Shadows Robo Skull with Red Wolf Pilot, all in excellent condition! This item is in the category "Toys & Games\Action Figures & Accessories\Action Figures". The seller is "mattyb626" and is located in this country: GB. This item can be shipped worldwide.
Size: 3.75\
Theme: GI Joe Action Force
Year: 1985
Character Family: GI Joe
Type: Action Figure
Packaging: Without Packaging
Brand: Hasbro

---