Collectors Showcase Premium Display Case for 3-3/4 GI Joe Action Figures -S2MS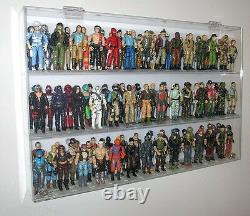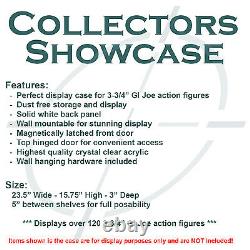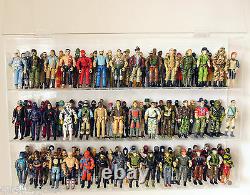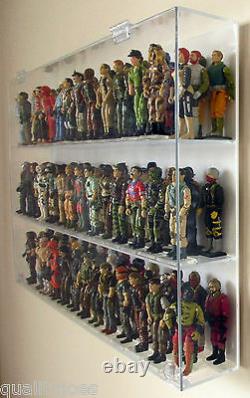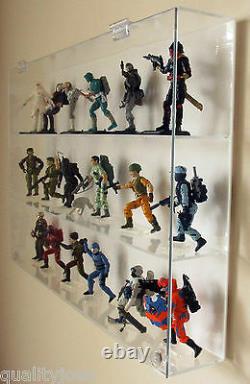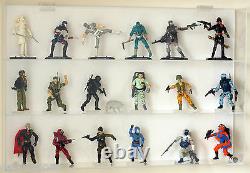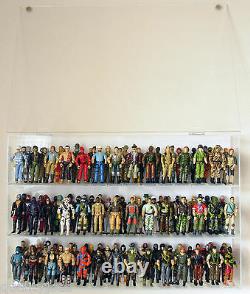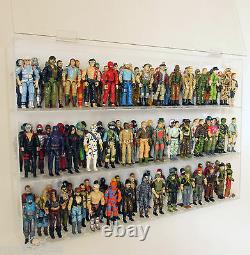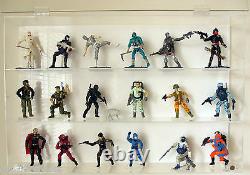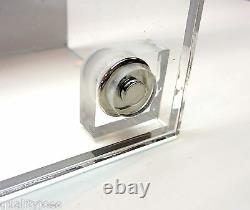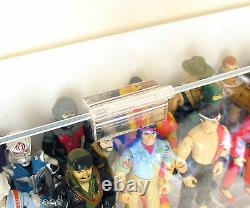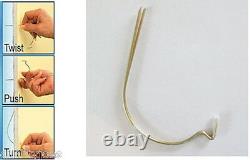 Get your collections out of storage! Proudly display them in the qualityjoes Collectors Showcase. This listing is for a brand new, high quality, crystal clear acrylic display case. Items shown in the case are NOT included - they are for display purposes only. Displays over 120 3-3/4 sized action figures.
Dust free storage and display. Wall mountable for stunning display. Top hinged door for convenient access and loading. Highest quality crystal clear acrylic. 23.5" Wide - 15.75" High - 3 Deep. 5 between shelves for full posability. Note: The magnetic closure has been redesigned since most of these pictures were taken. Please see photo 10 for new closure design. Great for displaying any of the following GI Joe characters; Hawk, Steeler, Grand Slam, Rock'n Roll, Scarlett, Snake Eyes, Stalker, Breaker, Clutch, Flash, Grunt, Short-Fuze, Zap, Torpedo, Wild Bill, Ace, Doc, Duke, Gung-Ho, Snow Job, Airborne, Tripwire, Cover Girl, Cutter, Deep Six, Thunder, Mutt, Blowtorch, Recondo, Ripcord, Roadblock, Spirit and Freedom, Flint, Keel-Haul, Sgt.
Slaughter, Shipwreck, Bazooka, Tollbooth, Airtight, Alpine, Barbecue, Crankcase, Dusty, Footloose, Frostbite, Heavy Metal, Lady Jaye, Quick Kick, Lift-Ticket, Claymore, Slip-Stream, Leatherneck, Beach Head, Low-Light, Cross-Country, The Fridge, Iceberg, Lifeline, Mainframe, Wet Suit, Dial Tone, Sci-Fi, Payload, Maverick, Lt. Falcon, Psyche-Out, Back-Stop, Dodger, Mercer, Red Dog, Taurus, Avalanche, Blaster, Blocker, Chuckles, Hardtop, Jinx, Knockdown, Outback, Sneak Peek, Starduster, Steam Roller, Tunnel Rat, Crazylegs, Fast Draw, Law & Order, Rumbler, Skystriker, Ghostrider, Windmill, Super Trooper, Storm Shadow, Armadillo, Blizzard, Repeater, Budo, Charbroil, Hardball, Hit & Run, Lightfoot, Muskrat, Shockwave, Skidmark, Spearhead, Wildcard, Countdown, Dogfight, Hot Seat, Long Range, Windchill, Backblast, Recoil, Dee-Jay, Downtown, Scoop, Major Storm, Capt. Grid-Iron, Rapid Fire, Updraft, Sub-Zero, Altitude, Airwave, Drop Zone, Skydive, Airborne, Cold Front, Salvo, Static Line, Pathfinder, Topside, Bullhorn, Freefall, Stretcher, Rampart, Ambush, Major Altitude, Big Ben, Tracker, Skymate, Heavy Duty, Clean-Sweep, Cloudburst, Ozone, General Flagg, Bullet-Proof, Dojo, T'Jbang, Barricade, Nunchuk, Colonel Courage, Mace, Mirage, Snow Storm, Bushido, Banzai, Blast-Off, Long Arm, T'gin-Zu, Robo-Joe, Gears, G.
Joe, Effects, Ice Cream Soldier, Space Shot, Thunderwing, Chameleon, Sidetrack, Whiteout, Big Brawler, Crossfire, Double Blast, Sure Fire, Wet Down, Dart, Lifeline, Sideswipe, Sidetrack, G. Joe Reservist, Agent Faces, Barrel Roll, Cross Hair, Depth Charge, Hollow Point, Kamakura, Rampage, Red Spot, Sgt. Hacker, Switch Gears, Wide Scope, Wreckage, Action Man, Dr. Link Talbot, General Flagg, Hard Drive, Hi-Tech, Rollbar, Tracker Kwinn, Bombstrike, Cannonball, Major Barrage, Tiger Claw, Checkpoint, G.
Jane, Red Zone, Med Alert, Rook, G. Joe Trooper, Hard Master, Specialist Trakker, Agent Helix, Dialtone, G. Joe Pit Trooper, Ice Storm, Sgt.
Stone, Kickstart, Night Fox, Sandstorm, Tomahawk, Steel Brigade Delta, Sightline, Stiletto, Jodie "Shooter" Craig, Steel Brigade Commander, Steel Brigade Paratrooper, Sparks, G. Topson, Agent Natalie Poole, Gaucho, Jammer, Lt. Dolphin, Sparta, Freestyle, Felino, Big Lob, Quarrel, Theodore M. Thomas Bombardier, Marissa Fairborn, Billy Arboc Cobra Commander, The Enemy, The Enemy, Major Bludd, The Enemy, The Enemy, Baroness, Copperhead, Firefly, Scrap-Iron, Storm Shadow, The Enemy, Wild Weasel, Crimson Guard, Eels, Lamprey, Snow Serpent, Tele-Vipers, Tomax and Xamot, A. Mindbender, Motor-Viper, Serpentor, Strato-Viper, Viper, Big Boa, Croc Master, Crystal Ball, Golobulus, Gyro-Viper, Ice-Viper, Nemesis Enforcer, Raptor, Royal Guard, Sea Slug, Techno-Viper, W.
Astro-Viper, Hydro-Viper, Secto-Viper, Star-Viper, Toxo-Viper, Aero-Viper, Alley Viper, Frag-Viper, HEAT Viper, Night-Viper, Track-Viper, Decimator, Laser-Viper, Night Creeper, Overlord, Range-Viper, Rock-Viper, S. Viper, Vapor, Cesspool, Crimson Guard Immortal, Desert Scorpion, Incinerators, Interrogator, Night Vulture, Overkill, Sky Creeper, Sludge Viper, Cobra Air Devil, Dice, Flak-Viper, Headhunters, Headman, Heli-Vipers, Ninja-Viper, Slice, Toxo-Zombie, Bio-Vipers, Cobra BAAT, Night Creeper Leader, Crimson Guard Commander, Cyber-Vipers, Gristle, Mega-Vipers, Monstro-Vipers, Nitro-Viper, Red Ninjas, Headhunter Stormtroopers, Cobra Blackstar, Carcass, Lobotomaxx, Predacon, Vypra, Rip It, Cobra Fast Blast Viper, Iguanus, Shadow Viper, Slythor, Sub Viper, Warwolf, Cobra C. Cobra Moray, Desert Cobra C.
Neo-Viper, Neo-Viper Commander, Shock Viper, Skull Buster, Air-Viper, Black Dragon, Black Dragon Trooper, Black Out, Cobra C. Commander, Cobra Coils, Cobra Inferno BAT, Heavy Water Trooper, Pit Viper, Sand Viper, Scalpel, Swamp-Viper, Alley Viper II, Black Dragon Ninja, Cobra BAT II, Cobra Infantry Trooper, Cobra Ninja Trooper, Cobra Squad Leader, COIL Crusher, Electric EEL, Ghost Bear, Neurotoxin, Razor Trooper, Razorclaw, Sand Scorpion, Snow Wolf, Swamp Rat, Venomous Maximus, Cobra Imperial Guard, Cobra Night Trooper, Cobra Slash, Cobra Squad Leader, Crimson Shadow Guard, Croc Master II, Cobra Commander, Jungle Viper, Medi-Viper, Shadow Strike, Cobra Mortal, Cobra Viper Guard, Coil Trooper, Gallows, Grim Skull, Guillotine, Hannibal: Reborn, Skull Squad Trooper, Lt. Clay Moore, Snow Serpent Commander, Cobra Sky BAT, Headhunter B.
Headhunter Guards, Headhunter Driver, Hotwire, Munitia, Black Major, Red Shadows, Red Torches, Cobra Air Trooper, Cobra Bazooka Trooper, Cobra Diver, Cobra Driver, Cobra HISS Commander, Cobra Paratrooper, Para-Viper, Cobra Pilot, Cobra Vehicle Gunner, Crimson Guard Officer, Crimson Guard Squad Leader, Mercenary Wraith, Montezuma's Skeleton, Snow Serpent Officer, Aqua-Viper Officer, Desert-Viper, Elite-Viper, Nano-Viper, Neo-Viper Officer, Night Adder, Red Fang Ninja, Terra-Viper, Cobra Crimson Horseman, Hazard-Viper, Lightning (Relâmpago), Steel Cobra (Cobra de Aco), Trigger (Gatilho), Zombie Viper, Cobra Stealth Paratrooper, Crimson Asp, Cobra Letal, Iron Klaw, Nano-B. Cobra Viper Officer, Cobra Lab-Rats, Repulsor, Advanced Stealth B. Gunner, Tombstone, Zartan, Buzzer, Ripper, Torch, Monkeywrench, Thrasher, Zandar, Zarana, Zanzibar, Road Pig, Gnawgahyde, Burnout, Crusher, Demolishor, Dreadhead Billy-Bob, Dreadhead Cletus, Dreadhead Joe-Bob, Dreadhead Otis, Dreadhead Roscoe, Dreadhead Vance, Storm Rider, Zanya, Destro, Ferret, Iron Grenadiers, Nullifier, Voltar, Annihilator, Darklon, T. Wild Boar, Metal-Head, Undertow, General Mayhem, Iron Anvil, Rowdy Roddy Piper, Iron Grenadier Officer, M.
Industries Weapons Officer, Sergeant Major Duncan, Undertow Officer, M. Iron Anvil Officer, Red Star, Big Bear, Colonel Brekhov, Lt. Gorky, Volga (aka Daina), Dragonsky, Horror Show, Schrage, Stormavik, Sgt. The item "Collectors Showcase Premium Display Case for 3-3/4 GI Joe Action Figures -S2MS" is in sale since Friday, November 17, 2017.
This item is in the category "Toys & Hobbies\Action Figures & Accessories\Action Figures". The seller is "qualityjoes" and is located in Oxford, Michigan. This item can be shipped to United States, Canada, United Kingdom, Denmark, Romania, Slovakia, Bulgaria, Czech republic, Finland, Hungary, Latvia, Lithuania, Malta, Estonia, Australia, Greece, Portugal, Cyprus, Slovenia, Japan, China, Sweden, South Korea, Indonesia, Taiwan, South africa, Thailand, Belgium, France, Hong Kong, Ireland, Netherlands, Poland, Spain, Italy, Germany, Austria, Bahamas, Israel, New Zealand, Philippines, Singapore, Switzerland, Norway, Saudi arabia, Ukraine, United arab emirates, Qatar, Kuwait, Bahrain, Croatia, Malaysia, Colombia, Costa rica, Dominican republic, Panama, Trinidad and tobago, Guatemala, El salvador, Honduras, Jamaica, Antigua and barbuda, Aruba, Belize, Dominica, Grenada, Saint kitts and nevis, Saint lucia, Montserrat, Turks and caicos islands, Barbados, Bangladesh, Bermuda, Brunei darussalam, Bolivia, Ecuador, Egypt, French guiana, Guernsey, Gibraltar, Guadeloupe, Iceland, Jersey, Jordan, Cambodia, Cayman islands, Liechtenstein, Sri lanka, Luxembourg, Monaco, Macao, Martinique, Maldives, Nicaragua, Oman, Peru, Pakistan, Paraguay, Reunion, Viet nam, Uruguay, Russian federation.
Size: 3.75"
Country of Manufacture: United States
Character Family: GI Joe
Type: Action Figure
Brand: Hasbro

---