GI Joe Vintage Accessories Weapons Lot Action Force Cobra Commander Snake Eyes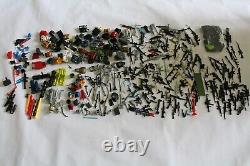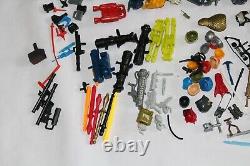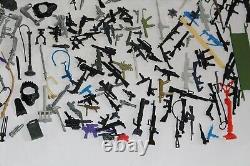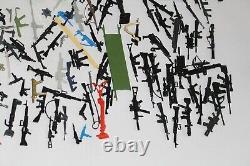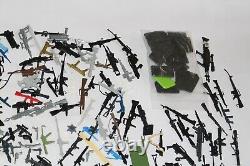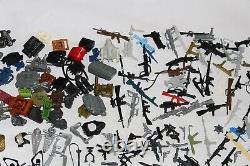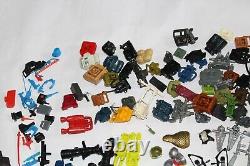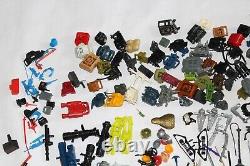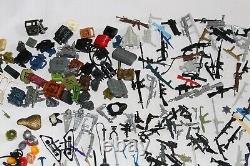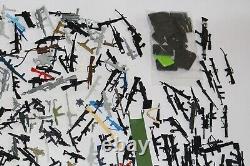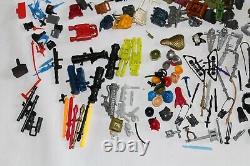 Hey folks, got a lovely bit of action figure joy here, this time it's an absolutely massive weapons and accessories lot from the vintage GI Joe series. GI Joe figures are a treasure of the action figure world and this one is no different. Items come as shown - these are all largely from the vintage ARAH series. There are quite a few Action Force parts, some very rare ones at that (a lot of them are on the left side, but there are more scattered through).
Also the black guns on the right of the green stretcher I'm not sure if they are vintage or Gi Joe, I didn't recognise too many of them so kept them on that side. But the majority of stuff is vintage and from ARAH or Action Force.
Check the pictures thoroughly as there are some rare items here, I have amassed this lot over many years and was going to sell them individually but I've never got round to it!! There's a lot of value here, but please check the pictures thoroughly to see exactly what you are getting.
That's pretty much it my dears, go grab yourselves a delight. Zoltar's Toys and Collectibles started after a young chap realised he had more toys than socks and that perhaps he should dabble in passing some of them on. It soon became apparent that passing them on meant that a new wave of jolly collectibles could be bought and thus the store was born. There seems to be a lack of collectors and stores who seem to really enjoy the field in which they trade however I have a genuine affection for all the items I sell, as my cluttered house would attest. Stray transformers have a habit of finding their way into our fridge's fruit compartment, and my patient girlfriend often has to chuck errant Masters of the Universe figures out of our bed.
This perhaps means that I have a little too much knowledge about things that would make Comic Book Guy blush, but if I can somehow pass this on and you have any questions at all about these products, whether trivial, practical or emotional, I'm really only too happy to answer them. Beginning from a toy filled bedroom this is a business founded on passion, good service and great products so please, if you have any time between sandwiches, feel free to check out my shop and other auctions. General - The items in that little window are the items you shall receive, excluding the odd stray foot of course.
All featured items will be original products, made up of new and used collections. Toys and Lego will be cleaned before posting, although comics will obviously be kept out of the washing machine. Lego sets - All sets will be complete or 99% complete unless stated otherwise as I always build them myself to make sure.
There is always a chance, more so with the larger sets, that I have missed a piece simply through human error. In the rare instance that a piece is missing then get in touch and I will do my best to help rectify the situation, as I have a number of pieces here and will be happy to help. This is only because currently this is a bedroom warehouse operation and it's taking me a bit of time to source materials and so on!

---